Our Parents lived with their Parents, Uncles, Aunts, Cousins, Grandparents in a
Big joint family
. To fill more color to the picture of life they lived in harmony with their neighbors in village, city, and state in fact across the border, just as they lived in a family.
But then, we grew up.
'We' as in "
we human civilization
". It took a leap towards
development
. And we designed a more economical, easy and in- alls' -interest way of living – living in a
nuclear family
. But again we were not happy.
Dividing families did not satisfy us. So we kept a distance from our neighbors. For, of course, reason due to time – constraint. Time is precious and it is something not to waste on good for nothing reasons. We took the concept of nuclear family seriously, very seriously.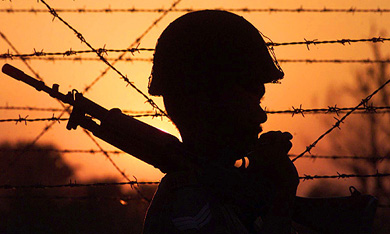 Human wants are endless. And we moved a step ahead. We asked the brothers born in different cities (
who care if we have the same country's passport
) to kindly vacate
our
aamchi
city.
They didn't heed so we had to bend our finger, for we can't allow someone else to skim the cream. Cream in which they had a lawful share.
End of surprises will bring monotony. So we demanded a Telangana. We have right to do so. The right to
develop
. We will next day ask for Poorv/Paschim, Uttar/Dakhin Aanchal.
Small highly developed regions of the
UNITED COUNTLESS STATES OF INDIA
. Only if we not get started with the demand of different nations.
For the same reason our parents separated from family - to take care of us. We have to get rid of
them
to cater to our future development.
I at times wonder "
How many more holes in the "aanchal
"
? Are we not going back to the Stone Age when it was just the cave, cave-mommy, cave-daddy and cave-kids? Are we not losing on our human traits? Are we not underestimating the quality of most superior beings on earth – the quality to think? How are we going to survive without our joint family?
It's not just about Telangana; a small hole only gets wider and wider if not stitched in time.
Development
and the
demand for development
are on a very high pace, sadly towards the opposite direction. If things remain the same, there will be a third world war . Every human rejecting to live with other human as "human". And so, the fourth will line up too, only to be fought with sticks and stones.